Gil SOLD My Home in 11 days for 97% of MY asking price!

Gil went out of his way to accommodate my every need, making everything extraordinarily EASY and EFFORTLESS on both my sale and purchase. He made my life much simpler, I never had to wonder what was going on, nothing we asked for or needed went without his prompt response. Gil understood my needs and the speed at which he attended to everything was in stark contrast to previous experiences I had with other realtors. AND - Gil saved me more than $100,000 on the purchase of my 'dream home' property!! Great job Gil, thank you so much!

Tim Libby
Penticton BC

 
---
Going Above and Beyond!
The relationship we have with our Realtor is very important to us. We were extremely comfortable working with Gil, his honesty and truthfulness was apparent from day one, even with the things we did not want to hear. We had complete confidence in him, knowing his top priority was looking out for us!
Gil always stayed positive; even as we felt frustrated time and again, in not finding the right home, it was apparent his mission was to find us that perfect home. Gil's experience and keen sense of observation really came through when looking at homes. He ensured we saw all the details of each property, pointing out things we would have missed.
The ultimate experience we had was when we were structuring an offer on a home; it was the one we really, really wanted - we saw this house as our perfect retirement home. The problem being, there was already an offer on the home. Gil's words of advice still ring clearly in my ears and I have since used them myself. His advice was simple, "Have No Regrets"! We wrote a back up offer that we were comfortable with, and somehow Gil worked his magic and secured our dream home!
Gil's commitment and service was head and shoulders above any previous experience we have had with other realtors. His willingness to go above and beyond to meet our needs, his flexibility to alter plans and get us into homes others may not have been able to on short notice, was fantastic. It was quite apparent to us that Gil has a great working relationship with other Realtors in the region. He told us he would find the perfect home for us, and he did!
Leo & Mary Gillich
Penticton BC

---
MY CONDO SOLD FOR 99.41% of asking price in JUST 17 DAYS!
Gil is extremely knowledgeable about the real estate market and was very thorough in his preparation. I have used other realtors but none come close to Gil and his teams' level of service. I saw one of Gil's signs on a lot and thought 'that will never sell' yet it sold and fast! When a friend referred Gil, I didn't hesitate to pick up the phone and I don't regret it! Gil was very straight forward, honest and extremely helpful every step of the way - and all this without being pushy! Gil kept me very well informed and has a very good follow up strategy as well as a very efficient and helpful team! My condo sold for 99.41% of asking price in just 17 days! YES!! I will refer Gil and his team to my family and friends - no hesitation! Thank you Gil!
Ralph Keller
Penticton BC

---
$5,000 More in Our Pockets!

We cannot tell you how happy we are with the job you did in helping us buy our new home and get our current home sold It has been 23 years since we bought a home and really didn't know where to begin but you were there every step of the way explaining everything from the in's and out's of new construction to providing us with a complete breakdown of what is happening in the current real estate market and what that meant for us. We received two offers on our current home and ultimately sold our home for 98.60% of our asking price in only 35 days. Gils' superior negotiating skills and great advice put $5,000 more in our pocket than we thought we would end up with even in the toughest market we have seen in Penticton in many years. The communication service and ongoing updates were amazing and greatly appreciated. Knowing there was always someone there to answer any question completely put us at ease. We have and will continue to happily recommend you and your team to anyone looking to buy or sell real estate.

Steve and Diane Matthews
Penticton BC

 
---
IMPRESSIVE

We had already purchased our brand new home and just needed to get this one sold in order to move. Your knowledge and advice was bang on our home sold in 21 days for 100% of our asking price and in the time frame we wanted. We have never worked with such an organized group of people all working toward meeting OUR goal. You were on top of everything from the exceptional marketing of our home to the unbelievable care and attention paid to our needs by you and your office staff. Your straight forward approach was much appreciated everything was laid out for us in black and white and you were always prepared to answer all of our questions fully. You delivered on every single promise made and we are thrilled For us there simply is no comparison between your system and the way other Realtors do business. We will absolutely recommend your services to anyone looking to buy or sell a home. Thanks again

Kieth Sylvia Ralston


 
---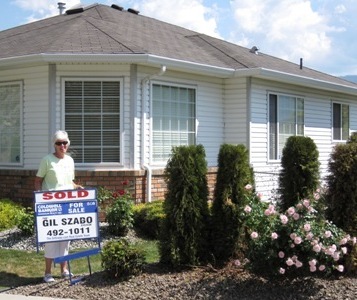 You actually bought my home so that I could buy my dream home!
I can't tell you how extremely happy I am with the results you got for me while selling my home and purchasing my new one. Looking back it's clear to me that I should have called you in the first place. I had my home for sale with other realtors previously; however they were not able to relieve the stress of not knowing if my home would sell.You actually bought my home so that I could buy my dream home! It was such a relief and a weight off my shoulders just knowing that my home was sold no matter what. Your entire team was very helpful and it is obvious that you all work to a higher standard. Jennifer was very professional and knowledgeable, and I found the communication with your team to be far better than I have experienced with other realtors. The weekly updates were much appreciated and important to me.I am not aware of anyone else who would actually keep a promise so big that they would buy my house so that I could go on to purchase another! You stood by your promises and I couldn't be happier! Thanks again for everything.

Valerie Lockstead
---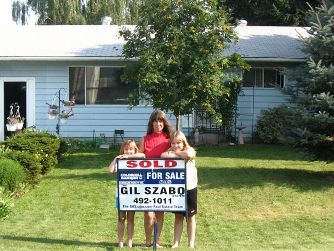 Sold our home in only 16 days for 98.61% of our asking price
We had been aware of all the marketing you did and when we decided to sell our home, you were the natural choice of a Realtor to speak with. We wanted to relocate and have our children in their new school before the school year started and we had to get our home sold quickly to enable us to do that. When we met, the way you went through all the details, the Market Analysis and the accurate pricing of our home was most impressive. Your attention to detail in explaining everything and your prompt attention to everything from your entire team was amazing. We always knew what was going on and you never left us hanging. You did a great job and sold our home in only 16 days for 98.61% of our asking price. We have already been talking to our friends about the excellent service you provided.
---
Our Home SOLD in 30 Days for $6,000 more !
We had worked with other Realtors in the past and had horrible experiences. Promises were made and not kept. It seemed as if the only reason our home was not selling was because of our price. The Realtors did not hold themselves accountable. We had our home listed for 7 months with another realtor and kept reducing the price, and it still didn't sell. The difference in our experience with you and your team was like night and day. There was absolutely no comparison between what you did and what others had done for us. It seemed every thing you did far exceeded our expectations. Shortly after we were finished with our other Realtor, we listed our home with you and SOLD it in 30 days for $6,000 more than we even had it listed for with the other Realtor. Then, once we had found a home that we really wanted, we couldn't afford to buy it without, first, selling our home. We did not want to loose the opportunity to buy the home we had fallen in love with, so Gil stepped in and gave us an unconditional offer to buy our home, which we accepted. The banks approved us to be able to actually buy the home we really wanted, based on the offer you gave us. We would not have been able to do this had it not been for your unconditional offer to buy our home. The story gets better though. We received another offer from someone else to buy our home , which we had just agreed to sell to Gil unconditionally. The new offer was for $10,000.00 more money than we had accepted from Gil. What happened next was just incredible, and went way above and beyond what we would ever expect a Realtor to do! Gil, very professionally, helped us put the new offer together with another buyer, and actually allowed us to sell the home to someone else for a lot more money than we had accepted from Gil! We got to keep the additional $10,000.00, not Gil, and we were able to buy the home of our dreams! We are so impressed with how much work your entire team did for us and all you did to ensure we were able to help us get the home we really wanted. We have never heard of any other Realtor who is so accountable that they will actually offer to buy your home so you can buy another one. Gil's program is unbelievable! We got the best of both worlds, in selling our home and buying our new home. You can not put a price on the piece of mind you have given us, and we know that you have helped us do the best thing for our kids and our entire family. We will truely enjoy our new home for years to come. Thank you so much Gil!

Manuel & Lisa Almeida
---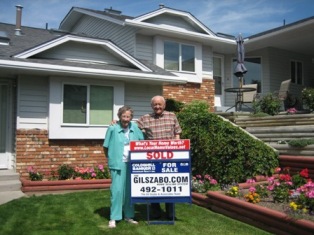 Gil absolutely lived up to all his promises.
We are very happy and very relieved that you got our home sold. We tried selling our home without using a Real Estate Agent and were unsuccessful. We wasted alot of time and we already had a new home to go to and were worried about moving and leaving this house sit empty. We initially came into contact with Gil through one of his websites and when he came to meet with us, his presentation to us was so very professional, we knew we had found the right person to sell our home. Gil guaranteed he would sell our home and sell it in a reasonable period of time.
Gil actually bought someone elses home so they could buy ours! We did not have to entertain another offer "Subject to Selling" their home. We find it hard to imagine someone would buy someone elses home so that they could buy ours. Gil absolutely lived up to all his promises completely and then went further to ensure we were looked after. My wife and I realize just how fortunate we were to have found you and we can't thank you enough for the wonderful job you did for us. The uncertainty of not having our home sold caused us a lot of sleepless nights. Finally now that our home is sold, we got a good night sleep again.
The uncertanty of not listing our home sold caused us alot of sleepless nights. Finally, now that our home is sold, we got a good nights sleep again.

Ron & Ruth Goodwin
---
We ultimately sold our home for $6,000 more.
We are absolutely ecstatic that you got our home sold so we could buy another home that we really had our hearts set on. We tried unsuccessfully to purchase the other property on our own, however were unable to proceed when we were unable to get our home sold. We realized that the market was very challenging at the moment and it was the first time we ever found ourselves in this situation, given current market conditions. We initially chose to work with Gil because of his Guaranteed Sale Program. We were hesitant at first, however the security Gil gave us by way of an unconditional contract to buy our home allowed us to buy the other home at a great price, knowing our home was already sold!
We accepted Gil's offer, and continued to market our property, to try to get more money, which we did in only 42 days. We ultimately sold our home for $6,000 more than we were even asking and $15,000 more than Gil had agreed to buy it for. The best part is, we were able to keep the additional money, making this an even better deal for us! Gil actually Guaranteed to Buy our home so we could buy another one and ended up in an even better position than if we had sold it ourselves! We find it hard to imagine any Realtor would actually buy someones home so that they could buy one of his listings. Gil absolutely lived up to all our expectations completely and then went further to ensure we looked after.
We can't thank you enough for the wonderful job you did for us.

Sid & Pat Scull
---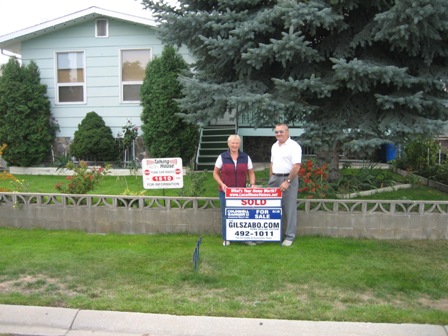 We were absolutely thrilled with he results of your team in selling our home. You didn't just make empty promises you delivered and sold our home quickly and for nearly our full asking price! We should have listed with you in the first place instead of wasting five months with another realtor. We found out the hard way that other realtors didn't work for us it was us doing all the work. When it comes to buying or selling we wouldn't hesitate to recommend you and your team. Thank you so much.
John & Margaret Horvath
---
I live out of town and wanted a realtor I could count on to get the job done professionally and done quickly, without a lot of hassle. You came highly recommended to me from two different sources, as someone with an aggressive marketing plan who gets results and that was what I needed. Initially we may have priced the home too high, but with the evidence you showed me, we set the price right for today's market and we saw immediate activity, just like you suggested. I can't tell you what a relief it was to know there was a whole team of people backing you up and helping to get the job done. You sold my home in 29 days and for full asking price, even in this difficult market! Thank you again so much for all you did.
Denis Tarr
---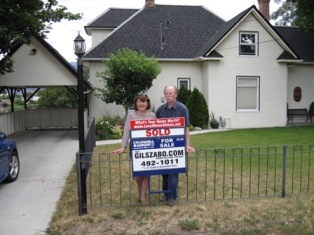 Why was choosing Grant Klatik from Gil Szabo & Associates the best real estate decision we have ever made? Because in a "sellers" market, life is simple: you list, show and sell. However, in a "buyers" market you need so much more: honest appraisal, strategy, connections, persistence and above all, hard work. And that is what Grant delivered. He gave us a completely honest opinion of how much our house should be listed for. Would we recommend the company to other sellers? We already have. Would we continue to recommend them? In a heart beat.

Diane and Bob Calhoun
---
I am so very happy with the recent sale of my home. You and your team made the whole process so easy for me, and I cant thank you enough.
When it came time to sell my home, I knew I wanted someone I could trust. You lived up to all the promises you made and I know my home sold as fast as it did because you were realistic and called it like you saw it. I trusted your advice, set the right price for my home and had an accepted offer with in a month!!!.
The team concept you have works beautifully, and is very different from the way other realtors I have worked with do things. Everyone is so organized and the constant communication and weekly updates are fantastic. I was never left wondering and all my calls were always handled promptly. You have a very positive attitude and approach toward helping people, youre not just gathering another paycheck, and I think that goes a long way!
Thank you so much!

Beryl Oliver
---
I just wanted to write to thank you for all you did for me in the recent sale of my mothers' home. You and your entire team made the whole process easy and stress free for me which is exactly what I needed at this time. It was so nice to deal with some one who was sincerely trying to help me. I never felt pressured to do anything and was always kept well informed of the efforts and progress to get the home sold. I had the home listed with another realtor before calling you but I just didn't feel I was getting the service I had been promised or deserved. You absolutely lived up to every promise you made and I am extremely happy to have gotten the home sold in just over 2 months and for 92.62% of the original asking price Thanks again.

Debbie Lukovszki


 
---
We had found a home we wanted to buy however we weren't willing to commit to buying it without having our home sold first. We knew the market was soft and thought we would be lucky to get it sold in time for a fair price. We called Gil for a number of reasons not the least of which is his vast experience and proven track record for getting the job done. Gil and his team did a great job of keeping us up to speed with weekly updates and stayed in constant communication. They kept all of their promises and sold our home for 100% of our asking price in only 42 days in a really tough market. Thanks for everything

Jon and Lisa Milligan


 
---
I am so happy and grateful to the Gil Szabo Real Estate team for all they have done for me. I wanted to sell my home and find something with a little more space for me to do my sewing and as much as I had enjoyed my home for many years it was never really my dream home. I live on a fixed income and was hoping to sell my home and move into something more suitable and have a little left over. I originally called Gils office because I was interested in a property listed with another realtor. Gils partner Janet quickly answered my call and had an appointment for me to see the home within 2 hours. Gil and his team sold my home in 20 days for 94.17% of the asking price and helped me to purchase a more suitable home and have more money in the bank even after renovations The entire team far surpassed all my expectations and went out of their way to ensure I had everything I needed which gave me such peace of mind throughout the whole process. I was kept informed with weekly updates and all my questions were answered promptly. I was never put on hold or expected to wait and everyone knew me by my first name. Their professionalism superior service and kindness just can't be beat. I would recommend Gil Szabo and his team to anyone

Evelyn Hill


 
---
I had decided to make a move was leaving town and needed to get my home sold fast and within a specific time frame. I had worked with Gil in the past and knew he would get the job done quickly. With all I had to do the last thing I needed was to worry about whether or not my house would sell in time. I needed honest accurate advice and this is what Gil provided me with. Gil kept every promise he made and the team kept me completely informed every step of the way. The constant communication kept my mind at ease and allowed me to focus on all the other things that needed to be done before the move. I am so pleased with the results the team got for me. My house sold in 37 days for 96.46% of my asking price which allowed me to get on with my life. I would recommend the Gil Szabo Real Estate Team to anyone looking to sell their home quickly and hassle free Thanks again for another job well done.

Paula Cooke


 
---
We wanted to let you know how grateful we are with the fantastic job you did marketing and selling our home We are in the process of building a new home and didn't want the added stress of not having this one sold. We had tried selling previously with another realtor and were not at all pleased with the results as we had it listed for nearly 9 months We saw very few qualified buyers and felt completely abandoned with little to no communication. We started to receive some information from your company and while we felt very apprehensive due to our past experience with realtors we decided it couldn't hurt to hear what you had to say. You completely won us over with your straight forward honest approach to the facts regarding the market value of our home. The constant contact from you and your team was excellent and helped us the most by keeping us informed on a weekly basis. You helped us to see that not all realtors are the same and you more than lived up to your promises selling our home in 3 weeks for 99.74% of the asking price We are thrilled thank you again

Tina Simon Funk


 
---
We had our home listed for sale with another realtor for 14 months and were getting nowhere. We were often asked to leave our home so they could have an open house and we had a ton of them with no results. It was a stalemate No matter what we did nothing happened. We finally decided to call Gil and his team because of his Guaranteed Sale Program. We really wanted to get our home sold. I was skeptical about his Guaranteed Sale Program however when we found a home we wanted to buy Gil bought our home so we would not miss getting the home we had our hearts set on Gil put all our concerns to rest took away all our anxiety and he guaranteed he would sell our home which he did. Gils Guaranteed Sale Program speaks for itself and they went above and beyond to keep all their promises He and went out of his way to make things work for us and even got a couple extra days for us to actually make our move. Gils office staff was very cordial and always kept us well informed. Gil and his team relieved all our stress about our move and made the transition to our new home incredibly easy Their service was outstanding and they actually went above and beyond all our expectations A job well done Thank you so much

Aubrey Evelyn Warrington


 
---
Your Guaranteed Sale Program is real not just hollow promises like we expected. We were more than a little skeptical at first about how this worked but when Gil explained the program to us it worked perfectly. We got the best of both worlds in selling our home and in buying the new one. Gil actually bought our home so we could move up and buy the home of our dreams. If Gil did not buy our home we would not have been able to purchase the great home we did You can not put a price on the piece of mind you have given us. Thank you so much

J. E. Hartwick


 
---
100% SATISFIED

I have to let you know that I was 100% satisfied with your performance as my realtor. The information and advice you provided was practical economical and effective and allowed me to focus on more important things. We received two offers in less than two weeks and closed for more than the asking price all in a slow market. It was very impressive I am grateful for your guidance in responding to the competing offers and in closing the sale. It was a seamless exercise. All in all I could not have asked for more.

Leo Lehtiniemi


 
---