The Theme of CREA's 2023 Forecast is Not Recovery, But the Start of a Turnaround!
Ottawa, ON January 16, 2023 - The Canadian Real Estate Association (CREA) has updated its forecast for home sales activity via Multiple Listing Service® (MLS®) Systems of Canadian real estate boards and associations in 2023 and extended the outlook to 2024.
National home sales have been more or less stable since the summer, suggesting the downward adjustment to sales activity from rising interest rates and high uncertainty may be in the rear-view mirror.
Home prices remain mixed across Canada. With significantly higher borrowing costs, it's not surprising prices have mostly cooled from their peaks in more expensive markets within Ontario and British Columbia. While prices in most markets have declined from a short-lived sharp peak in early 2022, they remain well above where they were in the summer of 2020.
With the shock from the Bank of Canada's efforts to control inflation fading, and uncertainty about the path for housing markets and where borrowing costs will ultimately land also likely to wind down over the next few months, the theme of our 2023 forecast is not recovery, but the start of a turnaround.
It will likely remain quite difficult for many first-time buyers to enter the housing market until mortgage rates are lower than they are today. That being said, some buyers are expected to come off the sidelines once they have more certainty rates have topped out. Others will likely find 2023 the first opportunity in some time where they're not having to compete with multiple offers.
Some 495,858 properties are forecast to trade hands via Canadian MLS® Systems in 2023, a 0.5% decline from 2022.
The national average home price is forecast to decline 5.9% on an annual basis to $662,103 in 2023. It's important to note that based on the monthly data under the surface, that decline has already happened over the course in 2022; however, the record-setting start to that year will be reflected as a decline this year as prices are not expected to be anywhere near those record levels in 2023.
National home sales are forecast to rise by 10.2% to 546,625 units in 2024 as markets continue to return to normal. This would still be below the 2020 and 2021 figures. The national average home price is forecast to recover by a moderate 3.5% from 2023 to 2024 to around $685,056, below 2022 but back on par with 2021 says CREA.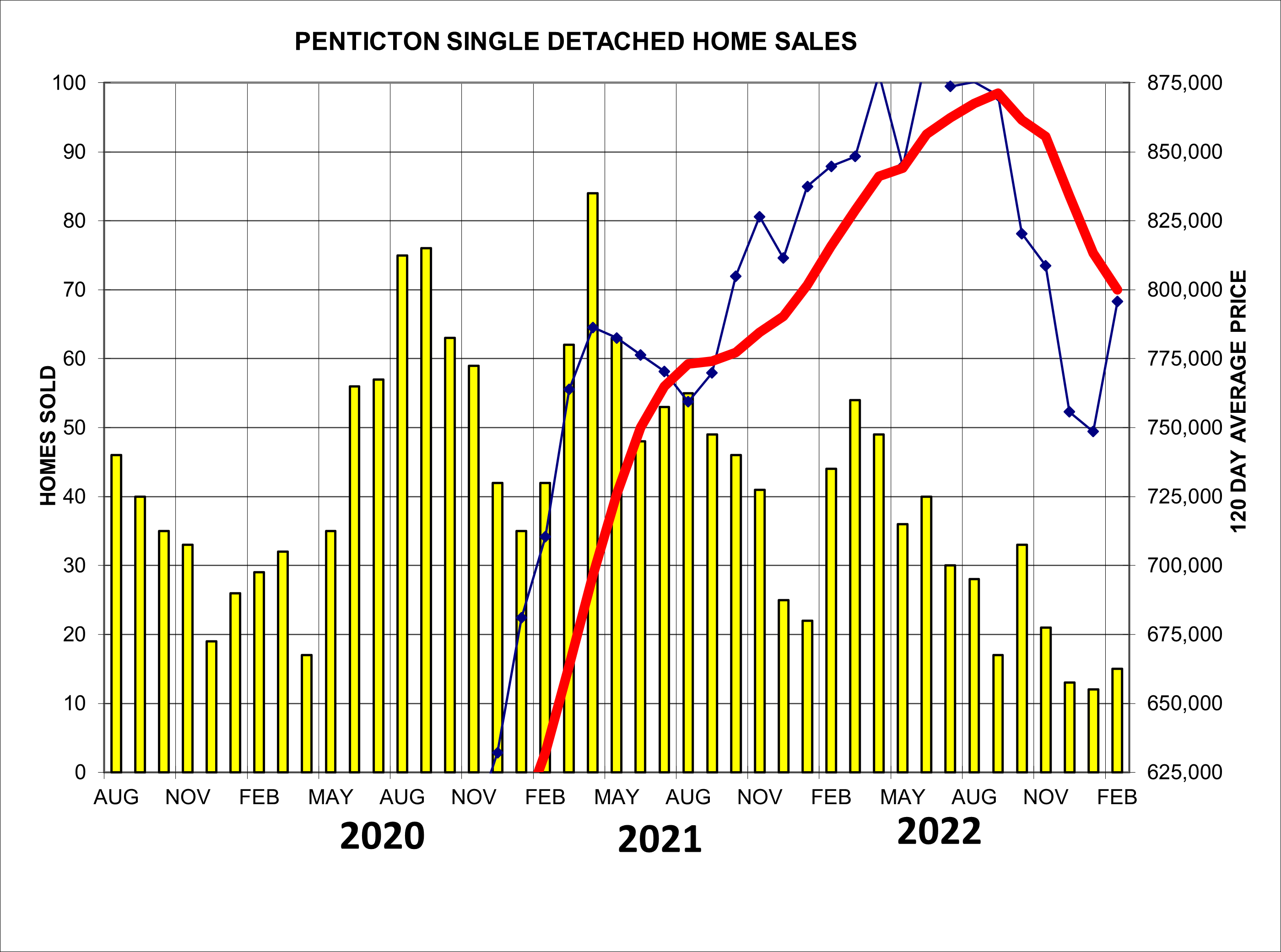 While CREA did forecast BC to be down in 2022 by 35.2% in the number of homes sold, Penticton was actually down 34.6% from 563 homes sold in 2021 to 368 homes sold in 2022. History tells us that in under our normal market conditions, we would expect 378 homes to trades hands in Penticton each year so almost exactly what we would expect in a normal market.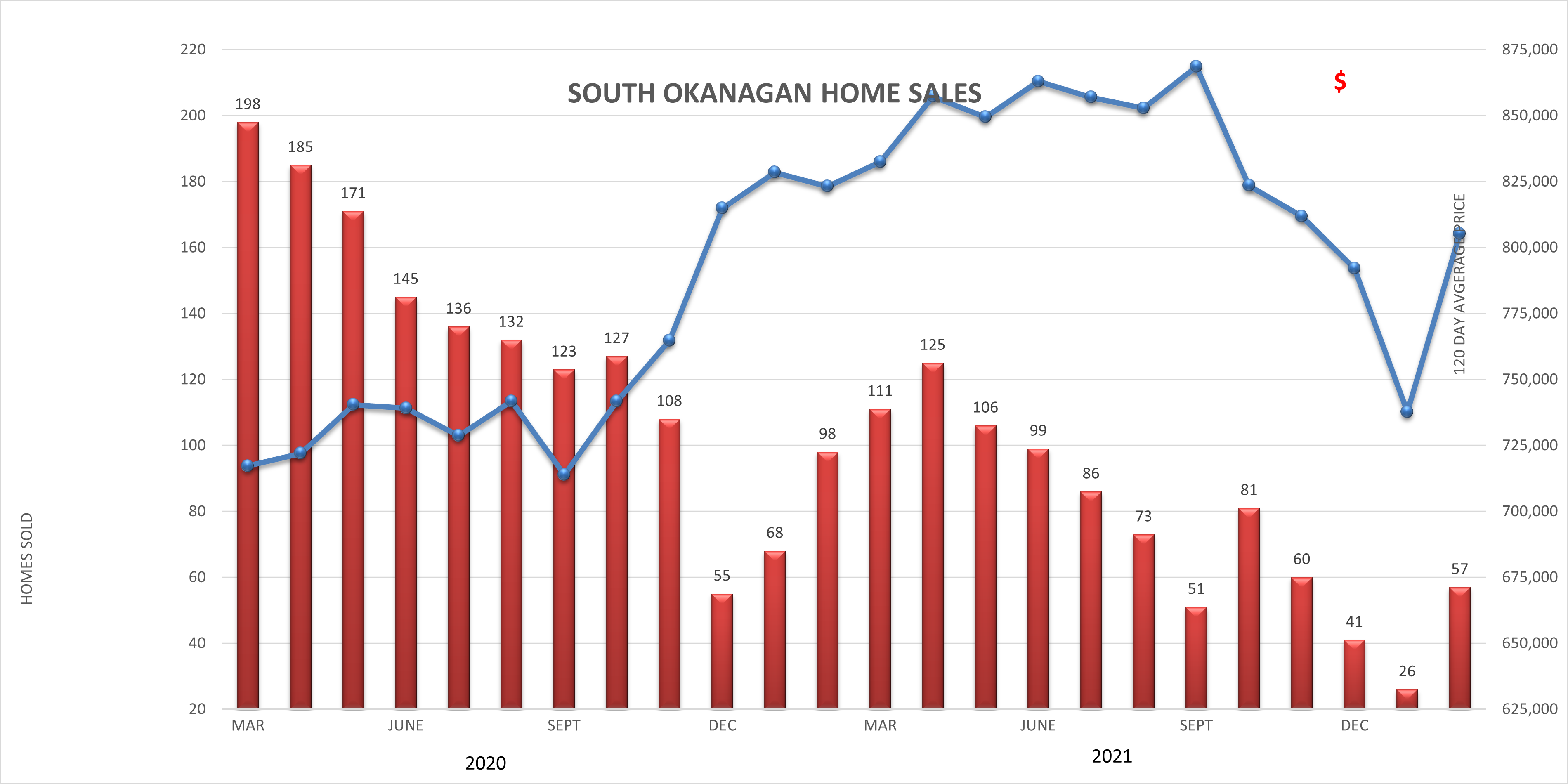 Need to Sell Your Home Fast For Top Dollar? 
You can call our office anytime at 250-492-1011 for a FREE Quick Over-the-Phone Home Evaluation. As it's the name implies this is a NO cost, NO obligation way of learning what your home could sell for in today's market.
February 2023 Real Estate Activity
| | | | | | | |
| --- | --- | --- | --- | --- | --- | --- |
| AREA | HOMES  | % CHANGE vs. | | 120 DAY | % CHANGE vs. | |
| |  #  SOLD | LAST MO. | YEAR AGO | AVERAGE PRICE | LAST MO. | YEAR AGO |
| PENTICTON | 15 | +25.00 | -65.91 | UP to 795,716 | +6.30 | -5.81 |
| SUMMERLAND | 10 | +500.00 | +11.11 | UP to 837,134 | +15.95 | -18.53 |
| NARAMATA | 1 | +100.00 | 0.00 | UP to 2,235,285 | +25.73 | +53.91 |
| KALEDEN/ OK FALLS | 5 | +250.00 | -37.50 | UP to 1,012,641 | +10.63 | +14.89 |
| OLIVER/OSOYOOS | 17 | +212.50 | -10.53 | UP to 728,350 | +14.14 | -6.01 |
| TOTAL AREA | 57 | +219.23 | -41.84 | UP to 805,208 | +9.15 | -2.18 |
| | | | | | | |
CREA is expecting the number of home sales to increase by 3.7% on 2023 and a further 15.3% in 2024 as interest rates start to ease.

CREA believed that average home prices would drop 7.0% in British Columbia in 2023, which we have already seen take place with Penticton's average price now at $795,716 down 5.81% from the same time in 2022 and equivalent to the average sale price in October 2021. CREA's forecast for average home prices in BC is to increase 5.6% in 2024 bringing us back close to prices at the peak of the market in 2022.

What we saw from the fall of 2021 through the summer of 2023 was typical of a market peaking with the number of homes trading hands from the summer of 2020 through the spring of 2022 at a historically record pace. Of course, the number of sales will be down compared to historical peaks. After April of 2022, the number of homes trading hands returned to a more normal pace if not even a little below that as homebuyers grappled with rapidly rising interest rates.

BCREA forecasts residential sales in BC to decline 7.1 percent to 75,150 units this year. In 2024, MLS® residential sales are forecast to post a strong rebound, rising 23.8 percent to 93,025 units.
"A slowing economy and still elevated mortgage rates are expected to keep housing activity lower than normal through much of 2023," said BCREA Chief Economist Brendon Ogmundson. "However, we expect a strong recovery, boosted by an expected decline in mortgage rates and record high immigration that will carry significant momentum into 2024."
Inventories have increased from the depleted level at the beginning of 2022, but they remain low compared to historical levels, despite a sharp decrease in sales. However, the abrupt shift in market conditions has meant that prices have come down despite low inventory, falling from peak levels through the spring before stabilizing toward the end of last year. While we expect MLS® average prices to trend relatively flat this year, they will be lower than the peak values of 2022. Consequently, year-over-year comparisons will register negative for much of 2023, likely resulting in negative annual price growth even if monthly prices begin to recover as expected later this year.
Looking To Retire In Penticton? 
You can call our office anytime at 250-492-1011 or Click Here to view available Waterfront Homes In Penticton
A Short Summary of CREA's 2023 Forecast:
National home sales have stabilized since the summer of 2022
Home prices have cooled in more expensive markets in Ontario and British Columbia but remain above summer 2020 levels
The 2023 forecast is for the start of a turnaround, not a recovery, due to uncertainty about borrowing costs and the path of the housing market
It will be difficult for first-time buyers until mortgage rates decrease
495,858 properties are forecast to trade hands in 2023, a 0.5% decline from 2022
The national average home price is forecast to decline 5.9% on an annual basis to $662,103 in 2023
National home sales are forecast to rise by 10.2% to 546,625 units in 2024
The national average home price is forecast to recover by 3.5% from 2023 to 2024 to around $685,056
In British Columbia, residential sales are forecast to decline by 7.1% in 2023 and rebound by 23.8% in 2024
Inventories have increased but remain low compared to historical levels
Prices have come down from peak levels but are expected to stabilize and begin to recover later in 2023



Here are the top 10 reasons why Penticton should be at the top of your list:
Natural beauty: Penticton is situated between two lakes, Okanagan and Skaha, surrounded by picturesque mountains, vineyards, orchards, and beaches, offering stunning views and endless outdoor activities.

Sunny climate: Penticton has a warm, sunny climate with hot summers and mild winters, allowing residents to enjoy outdoor activities all year round.

Thriving tourism industry: Penticton is a popular destination for tourists from all over the world, which creates a vibrant local economy, with many restaurants, cafes, wineries, and shops to enjoy.

Strong local economy: Penticton has a diverse range of industries, including agriculture, technology, and tourism, which provides a stable and growing economy, attracting a range of businesses and entrepreneurs.

High quality of life: Penticton offers a high standard of living, with a low crime rate, good healthcare, and excellent educational opportunities.

Outdoor activities: Penticton is a hub for outdoor activities, such as hiking, biking, skiing, snowboarding, golfing, fishing, and water sports, offering something for everyone.

Wineries: The Okanagan Valley is famous for its wineries, and Penticton has some of the best, offering world-class wine tours and tasting experiences.

Vibrant arts and culture scene: Penticton has a thriving arts and culture scene, with many galleries, museums, and events throughout the year, showcasing local talent and international exhibitions.

Friendly Community: Penticton has a friendly, welcoming community, with a strong sense of community spirit and pride.

Affordable cost of living: While Penticton is a desirable place to live, the cost of living is still relatively affordable compared to other Canadian cities, making it an attractive option for those looking for a high quality of life without breaking the bank.
 
VIP Buyers Get Priority Access  
Become a VIP Buyer & Get Priority Access to the Best Properties BEFORE Other Buyers. Call 250-492-1011 or Click Here to get started.